PSE Academy
The Philippine Stock Exchange Academy, the official website dedicated for market education, is conducting yet another FREE webinar about two topics centered about stock market analysis techniques: Fundamental Analysis and Technical Analysis. Investopedia, defines those as:
Fundamental Analysis
A method of evaluating a security that entails attempting to measure its intrinsic value by examining related economic, financial and other qualitative and quantitative factors. Fundamental analysts attempt to study everything that can affect the security's value, including macroeconomic factors (like the overall economy and industry conditions) and company-specific factors (like financial condition and management).

The end goal of performing fundamental analysis is to produce a value that an investor can compare with the security's current price, with the aim of figuring out what sort of position to take with that security (underpriced = buy, overpriced = sell or short).
Technical Analysis
A method of evaluating securities by analyzing statistics generated by market activity, such as past prices and volume. Technical analysts do not attempt to measure a security's intrinsic value, but instead use charts and other tools to identify patterns that can suggest future activity.

Here's the webinar poster: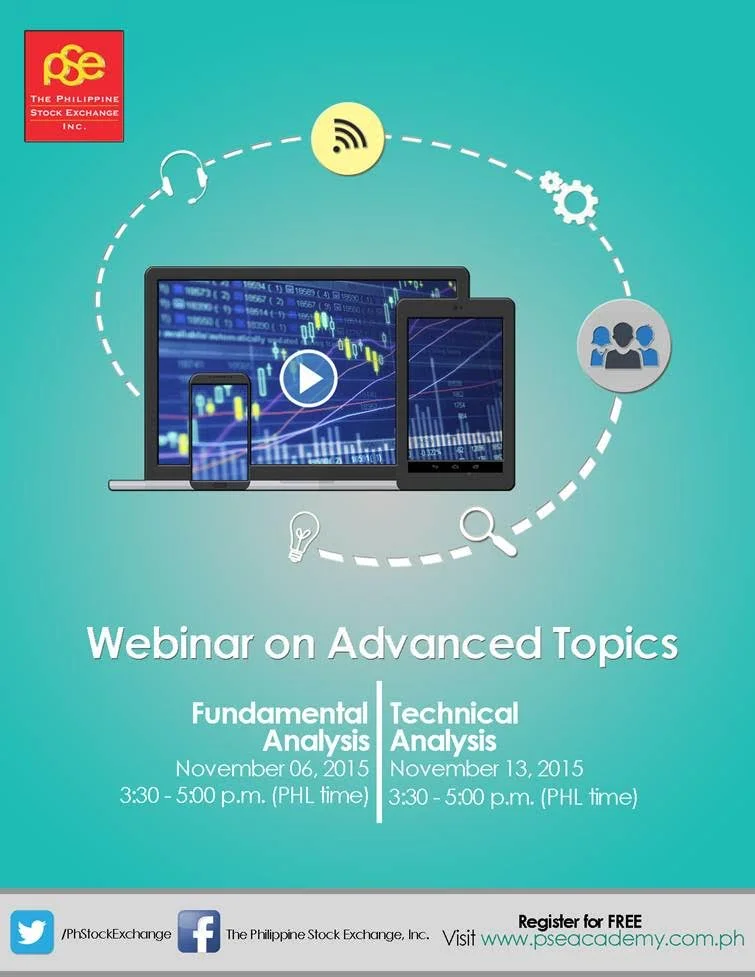 How to register
The Philippine Stock Market Fundamental Analysis webinar will be on November 6, 2015 at 3:30pm Philippine Standard Time. You can register now by clicking this link: https://attendee.gotowebinar.com/register/4937030779621926658
The Philippine Stock Market Technical Analysis webinar will be on November 13, 2015 at 3:30pm Philippine Standard Time. You can register now by clicking this link: https://attendee.gotowebinar.com/register/1081691113360343042
Are you investing in the Philippine Stock Market already?
Personally, I have been investing in the Philippine stock market since late 2010. My stock market investments generated at least 20% return to me yearly. Way better than any bank savings can give me. (Read: How I Bought a Bank). I know what fundamental and technical analysis is all about and I opted to make someone else do the analyses for me so I can focus more on my passion in saving lives thru Practical Financial Planning.
How?
I subscribed to this newsletter. They analyze which companies I can buy, update me about market news, when I should hold, when I should sell and also feed me spiritually.
If you are still reluctant in investing in the Philippine Stock Market, you are missing out on a lot. However, you should first consult a Professional Financial Planner before going in it.
Why?
Because as a Financial Planner myself, I need to see the bigger picture of my clients' finances before allowing or even suggesting to them that they can already invest in any kind of financial instrument. I really make it a point to make them have a specific purpose for every investment they have. This will ensure that they will stick to that goal/purpose until they reach it.
Don't hesitate to contact me if you are ready to have more control over your financial future by planning it today.
Spread this free webinar to your friends and family by clicking the buttons below:
[wpsr_sharethis]
To our success in all areas of life,
Argel Tiburcio, CIS, RFP Graduate Member
I'm on Facebook: http://fb.com/PersonalFinancePH
Follow me on Twitter: http://twitter.com/argeltiburcio
Add me on your Google+ circles: http://www.google.com/+ArgelTiburcio
Check out my Pins on Pinterest: http://pinterest.com/argeltiburcio/
Grab my FREE E-Book and newsletter: Click Here
The following two tabs change content below.

When he is not busy watching "The Office", lounging at the beach, or playing 1st person shooting games, Argel consistently invests in the stock market, both local and global. He loves learning through books, training, seminars, and workshops. He also helps Pinoys create, manage, grow, and protect their wealth as a globally-certified Professional Financial Advisor. Get in touch with him by sending an email to contact[at]argeltiburcio.com

Latest posts by Argel Tiburcio (see all)