My AIA is an online platform that lets you access all of AIA's products and services with just a few taps.
This lets you be more hands-on with your health and finances without hassle or inconvenience. 
Tap your way to Total Health with My AIA
Take care of your health and well-being with just a few taps.
The new My AIA is your gateway to accessing a personalized Total Health Solution to help you wherever you are in your health journey.
Watch this guide and explore My AIA with ease:
Do basic transactions on your policy such as:
View your policy details
Pay premiums
Manage your investment funds
File for a policy loan
Reinstate your policy
Update your contact info
Redeem your account value
Choose how to receive your policy benefit
Enjoy our health and wellness services:
Access your AIA Vitality app
Schedule your FREE teleconsult
Order your medicine for delivery
Request your lab and COVID tests
Use the symptoms checker
Check your breast health
Watch out for other exciting features on My AIA, soon!
Explore My AIA and get a chance to Choose Your Adventure!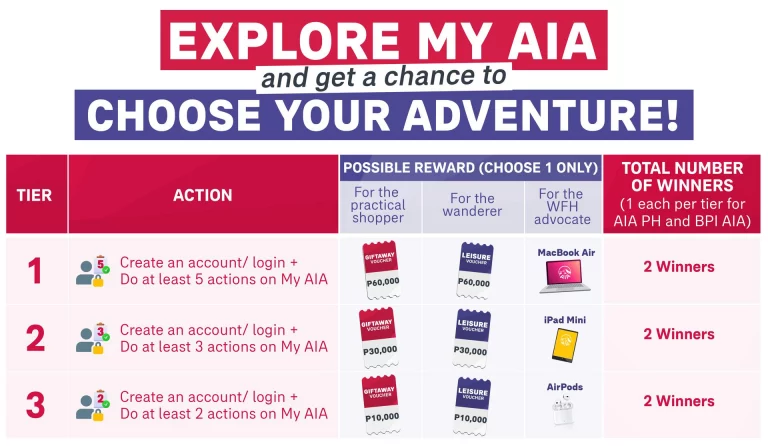 Promo ends September 30, 2022. Hurry!
Need More Information About My AIA?
The following two tabs change content below.

When he is not busy watching "The Office", lounging at the beach, or playing 1st person shooting games, Argel consistently invests in the stock market, both local and global. He loves learning through books, training, seminars, and workshops. He also helps Pinoys create, manage, grow, and protect their wealth as a globally-certified Professional Financial Advisor. Get in touch with him by sending an email to contact[at]argeltiburcio.com

Latest posts by Argel Tiburcio (see all)