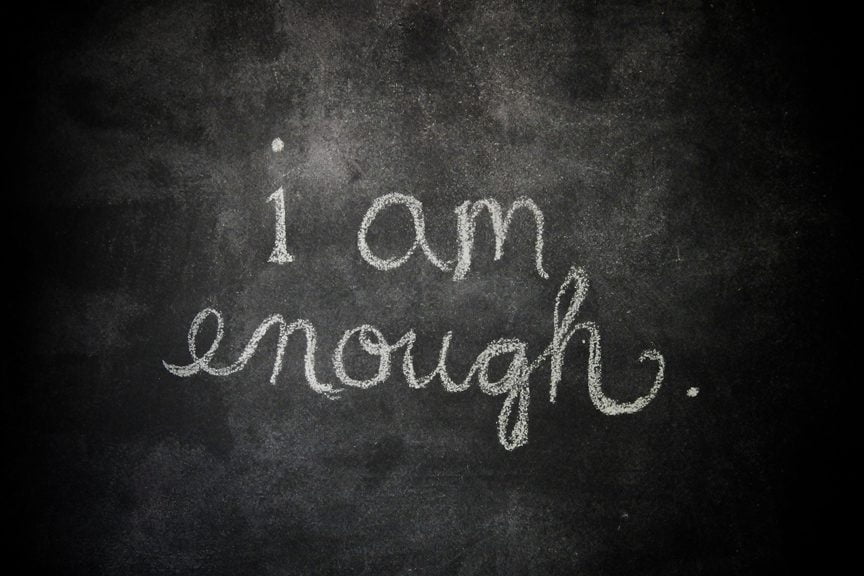 Yes, you are!
"I am enough."
These three words are all you need to become happy and fulfilled in life.
You can stop reading now. Haha!
If you're still reading this, I bet you're curious and maybe puzzled as to how these three words can change your life for the better. So, read on.

Mind: Blown!
I've recently watched Marisa Peer's video about how powerful these three words are and how it affects the way we think about what we already have and what we think we should have in our lives.
Marisa Peer, by the way, is a Best-selling Author, Motivational Speaker, and Leading Celebrity Therapist. This video you are about to see made her become the Best Speaker at Awesomeness Fest Croatia.
What made my mind blow about this video was the stories she told about how simple and profound is our need to tell ourselves that "I am enough."
She's been touching and changing lives of people (and even celebrities) so that they will become aware that they really are enough.
Here's one of her stories: Do you know people (or celebrities) who have all the money in the world to afford the lifestyle they want, to afford the fancy cars and humongous homes at a prestigious address? Yes? Do you know people like that who, despite having all those, still live miserably or are still not contented with their lives? Great. She worked with someone exactly like that. 
Guess what?
His problems or the root of his problems was that he did not think that he was enough. With a few tweaks and life hacks, she was able to turn this guy's life around and become happier and more fulfilled in life!
Awesome, right?
Before I go on with what life hacks I will be personally doing in order to remind me that I am enough, kindly set aside some time to watch this awesomely powerful video of Marisa Peer that I was talking about:
Finished watching the video?
A couple of things that I will be implementing:
Affirmation Calendar

I have created a Google calendar that reminds me three (3) times a day that I am enough, I am worthy and I am capable. These popups on all my gadgets (Yup, I am techy) at specifc times of the day: 6 AM, 12 NN and 6 PM

"I am enough"

As Marisa suggested, I will be writing "I am enough" in our mirrors at home 🙂 Very simple reminder, not only for me but also for my loved ones at home.
How about you?
What's your biggest learning from the video?
Has it changed your mindset? How do you feel about it?
Let me know by commenting below!
To our success in all areas of life,
Argel Tiburcio, CIS
I'm on Facebook: http://fb.com/ArgelTiburcio
Image sources: http://libbywilliamsphotoblog.com https://www.stayathomemum.com.au
The following two tabs change content below.

When he is not busy watching "The Office", lounging at the beach, or playing 1st person shooting games, Argel consistently invests in the stock market, both local and global. He loves learning through books, training, seminars, and workshops. He also helps Pinoys create, manage, grow, and protect their wealth as a globally-certified Professional Financial Advisor. Get in touch with him by sending an email to contact[at]argeltiburcio.com

Latest posts by Argel Tiburcio (see all)