Everyone has a story waiting to be told
Have you ever thought of writing your very own book?
Do you have a compelling story that you want to tell the world?
Are you still thinking of writing that first page?
My experience in writing my book
I've always wanted to write a book.
Ever since I entered the world of personal finance, I knew I had a duty and obligation to spread Financial Literacy.
Coming from a non-finance background, I didn't have any classes or courses related to finance or accounting.
At home, we didn't talk about how to handle money too. I just relied on the common mistake of saving money in the bank and then climbing up the corporate ladder in the hopes of having a bigger salary that would help me achieve my financial goals.
Fast forward to the time I left my software development job. When I was starting to meet clients, I realized that almost everyone I talked to was not aware of the basics of personal finance.
More alarmingly, even those who are accountants or with business backgrounds have struggled in handling their personal finances.
With that, I saw an opportunity.
So, I started to think about writing a book about the basics of personal money management.
And then I got stuck.
Analysis paralysis
Being the constant overthinker that I am, I worried about a lot of things about writing a book.
How many pages should my book be?
How do I design my cover?
What if I don't reach a lot of pages?
How can I publish my book?
What if no one buys my book?
How much should I charge?
and the list goes on and on…
How did I overcome these?
Bias for action
I just started writing.
I started with an outline first.
Then I started filling up that outline.
Then I started typing away the content.
By the way, I used a technique to keep me typing content.
I focused on my work for 25 minutes then take a break for 5 minutes.
Doing this made me trick my brain that I can do a bite-sized piece of work.
Little did I know, I am already stretching my writing to around two to three hours!
Thankfully, I finished my first draft in a little over one month.
More overthinking
Yup, overthinking was not yet over.
I put my draft on the back burner because I got stuck on what I should do next.
I had no idea how to layout and format my book for publishing!
After around six months (yup, that long!), I got to talk to another book author and I bombarded her with all the questions on my mind!
With that one conversation, I was able to finally produce the printable draft that was ready for printing.
Fortunately, I have close friends who loved books too! They have contacts with printers and they immediately recommended one.
My friends are truly heaven-sent! They even volunteered to proofread!
The final product
Finally, right before my birthday, I was able to launch my very first book!
"Ten Simple Steps to Surely Save Money"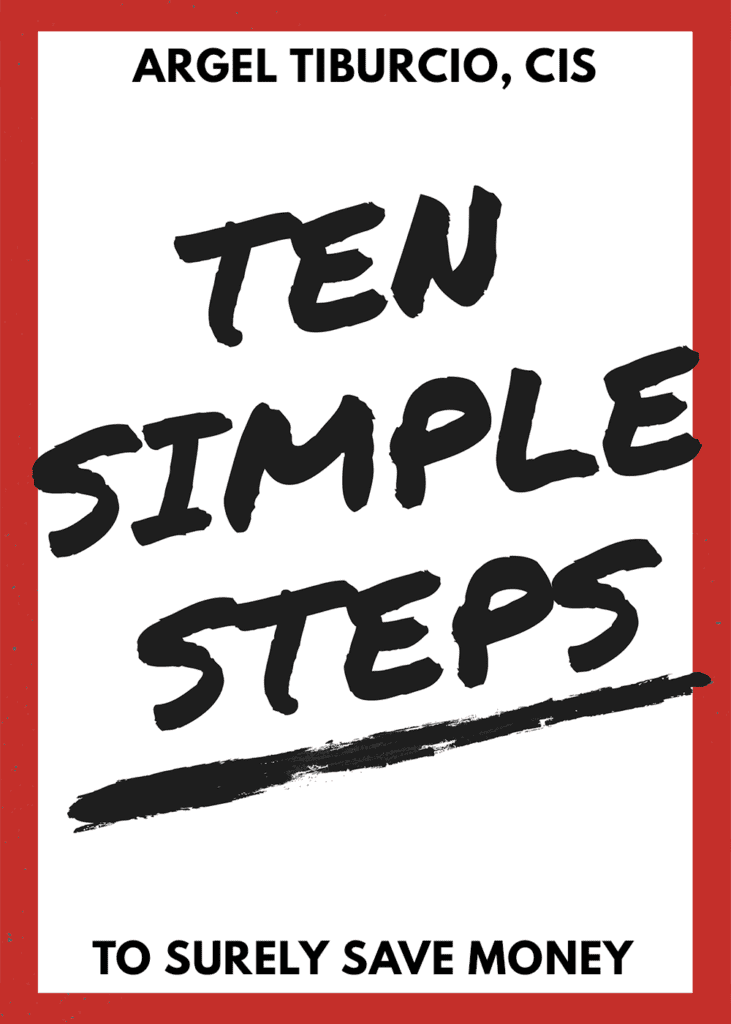 This wouldn't be possible without God's grace and all the people that He put along my way.
Write your book now
Don't let overthinking get in the way. Just do it.
Decide which topic you want to write about

Create an outline

Insert at least three subtopics per idea on your outline

Write

Write

Write

Edit and re-check

Let other people proofread your work

Layout and design your book

Print
Good news
The first batch of printed books is still available as of publishing this post!


Ready to write your book? Let's talk!
To our success in all areas of life,
Argel Tiburcio, CIS
I'm on Facebook: http://fb.com/ArgelTiburcio
The following two tabs change content below.

When he is not busy watching "The Office", lounging at the beach, or playing 1st person shooting games, Argel consistently invests in the stock market, both local and global. He loves learning through books, training, seminars, and workshops. He also helps Pinoys create, manage, grow, and protect their wealth as a globally-certified Professional Financial Advisor. Get in touch with him by sending an email to contact[at]argeltiburcio.com

Latest posts by Argel Tiburcio (see all)