One Billion Pesos
Most people don't even get close to having a million!
Imagine the number "1" having nine zeroes after it.
What can you really buy with one billion pesos?
This question came by when the Ultra Lotto hit the one billion-peso mark.
The long, winding lines at our local lotto outlets show the eagerness of lotto betters to win the grand prize and turn their life around.
In preparation for my TV interview with TV Patrol, I was asked what can people buy with their 1 Billion pesos lottery winnings.
Here's the breakdown of what I researched: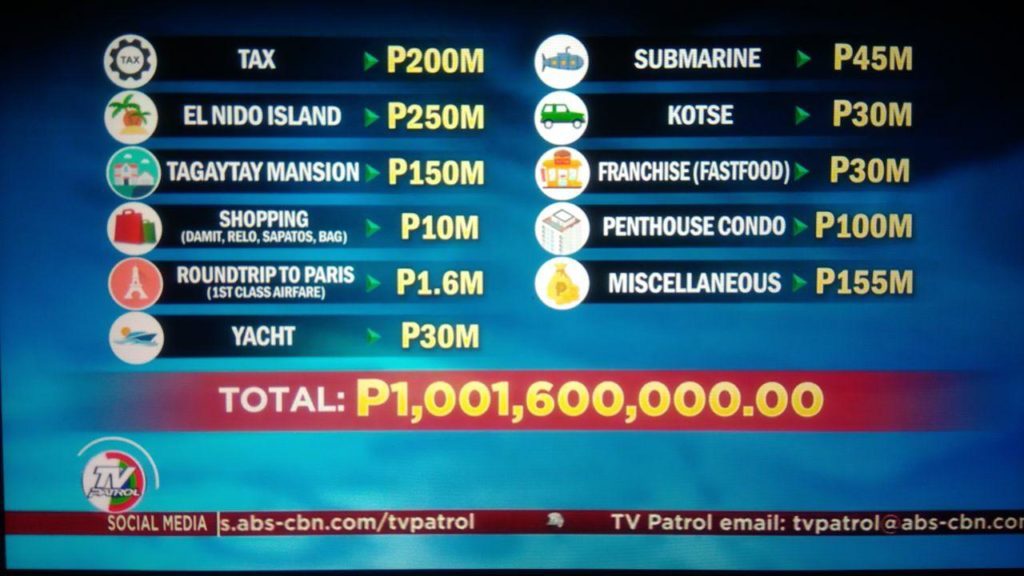 Tax
If you're not yet aware, yes, the government will take 20% of your lottery winnings as the tax. So, you're just left with 800 Million pesos to spend. Sad.
Your Own Island
The tropical paradise of El Nido, Palawan to be specific! If you want an island of your own, then get ready to spend 250 Million pesos. Also, did I mention that this is a raw and undeveloped island?
Tagaytay Mansion
Make sure to pack your jackets and get ready to feel the chill of Tagaytay all year long when you buy a 150 Million pesos Tagaytay Mansion.
Shopping
With 10 Million pesos, you can wear a different luxury watch for each day of the week, a different pair of luxury shoes for each day of the month, and branded clothes to match all those colors that match you and your style. The cost for splurging? 10 Million Pesos.
First-class Tickets to Paris
Paris would be boring if you went there by yourself, right? And since you're a billionaire already, you have to fly first-class! Roundtrip first-class, suite-in-the-air tickets cost around 800 Thousand pesos each. Double that then that's 1.6 Million pesos. Au revoir!
Yacht
Since you live in an archipelago and you just bought an island, why not top it off with your own yacht? This will set you back by 3o Million pesos depending on the size and customizations you want with your yacht. All aboard!
Submarine
Yup, you read that right. A freakin' submarine! It's a two-seater, deep-sea submarine that will literally get you under the radar as you might be hiding from all your friends and relative who are asking for "balato." 45 Million pesos for that kind of privilege.
Luxury Cars
You need two of these bad boys because there's such a thing called number coding in Metro Manila. 15 Million pesos each and that's an easy 30 Million.
Fast Food Franchise
Need that crispy and juicy fried chicken fix? Why not buy a franchise of your favorite fast food brand? It will cost you around 30 Million pesos to get the franchise of this rapidly growing worldwide brand.
Penthouse Condo Unit
Billionaires are not exempted from traffic, that's why you might need a condo unit that's situated in a major business district in Metro Manila. Get the luxury and convenience of the whole floor for yourself and be right at the top and center of all the busyness of the city.
Miscellaneous Expenses
Maintenance. Gas. More taxes. Employees. Helpers. With all the stuff you bought, you need help to maintain and take care of your precious possessions, right? So, make sure you leave some moolah for unforeseen expenses that you will surely encounter.
Here's what you really have to do
Consult with a Professional Financial Adviser

Let's face it. If you are not a billionaire already, you can't handle a billion pesos. You need professional advice. Get it from a professional financial adviser (like me!) Both of you can decide how much you can spend, how much you should save and invest, and how much you can give away,

Make your money work for you

Create a Golden Goose (investments) that will lay your Golden Eggs (income/cash flow). This way, you don't even have to work again, and hopefully, your wealth will outlast your lifetime.

Give back

Give to your church, your favorite charities, build a school, create a library, whatever makes you spiritually nourished. Give back. Don't do it for them, do it for you.
In case you missed the TV Patrol segment, watch it here:
How about you? How would you spend a billion pesos?
Leave your answers in a comment below!
To our success in all areas of life,
Argel Tiburcio
Author | Adviser | Advocate
www.ArgelTiburcio.com
The following two tabs change content below.

When he is not busy watching "The Office", lounging at the beach, or playing 1st person shooting games, Argel consistently invests in the stock market, both local and global. He loves learning through books, training, seminars, and workshops. He also helps Pinoys create, manage, grow, and protect their wealth as a globally-certified Professional Financial Advisor. Get in touch with him by sending an email to contact[at]argeltiburcio.com

Latest posts by Argel Tiburcio (see all)