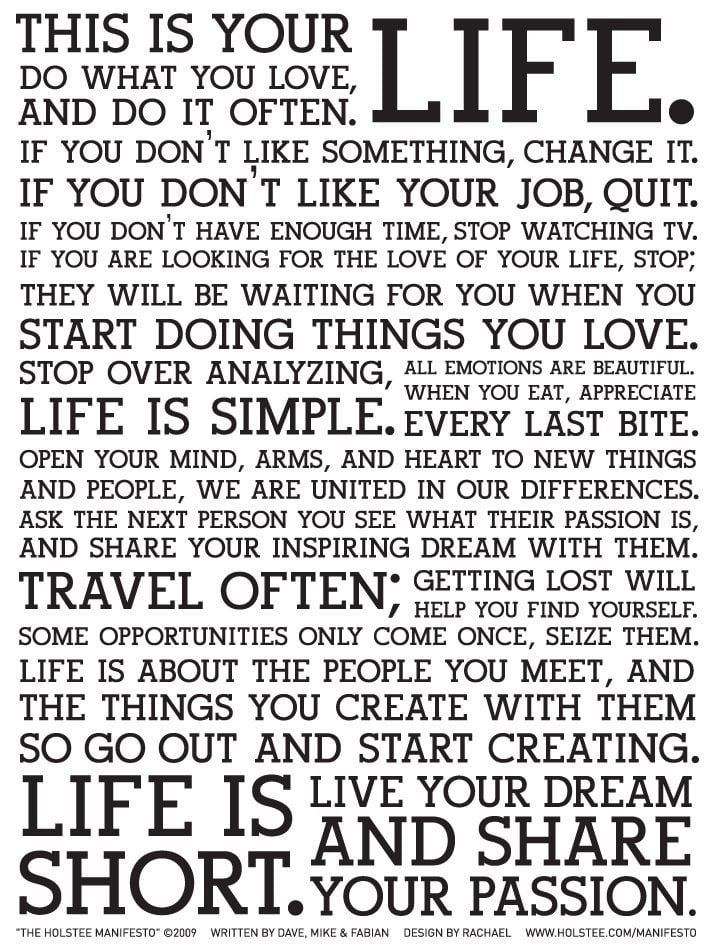 This is your life.

Do what you love and do it often.

If you don't like something, change it.

If you don't like your job, quit.

If you don't have enough time, stop watching TV.

If you are looking for the love of your life, stop;

They will be waiting for you when you start doing things you love.

Stop over analyzing, life is simple.

All emotions are beautiful.

When you eat, appreciate every last bite.

Open your mind, arms, and heart to new things and people, we are united in our differences.

Ask the next person you see what their passion is, and hsare your inspiring dream with them.

Travel often; Getting lost will help you find yourself.

Some opportunities only come once, seize them.

Life is all about the people you meet, and the things you create with them so go out and start creating.

Life is short

Live your dream and share your passion.
What's your favorite line from the Holstee Manifesto?
It's so hard to choose, right? Haha!
I'll just pick my top three (3):
Travel often;
If you don't like your job, quit.
Live your dream and share your passion.
How about you? What's the line that resonates with you the most?
Share it with us by commenting below!
[wpsr_sharethis]
To our success in all areas of life,
Argel Tiburcio, CIS, RFP Graduate Member
I'm on Facebook: http://fb.com/PersonalFinancePH
Follow me on Twitter: http://twitter.com/argeltiburcio
Add me on your Google+ circles: http://www.google.com/+ArgelTiburcio
Check out my Pins on Pinterest: http://pinterest.com/argeltiburcio/
Grab my FREE E-Book and newsletter: Click Here
The following two tabs change content below.
When he is not busy watching cooking shows or playing 1st person shooting games, Argel consistently invests in the stock market, and in crowdfunding opportunities. He tinkers with his websites and reads a lot of books. He also helps Pinoys create, manage, grow and protect their wealth as a licensed financial adviser. Get in touch with him by sending an email to contact@argeltiburcio.com
Latest posts by Argel Tiburcio (see all)