In case you missed the previous wedding planning post:
Booking the Reception Venue
Six days after successfully booking our church, we chanced upon a Bridal Fair in SM Megamall.
Knowing that we still have lots of suppliers to book, we readied ourselves to get MASSIVE amounts of brochures from the bridal fair because we really wanted to have options to choose from.
As our priority, we needed to look (and possibly book) a suitable reception venue. One major consideration for booking our reception venue is the LOCATION.
We wanted it to be close to our church. A maximum of a 30-minute drive from Chapel on the Hill to the reception venue would be ideal.
Do you think this was a coincidence?
As we walked along the numerous booths, we stopped by to check out the HillCreek Gardens venue. We noticed that they had an all-in package for wedding receptions.
Yes, it may be pricier than coordinating with and talking to different wedding suppliers, the convenience of having less contacts to deal with really fit our needs.
Since Maj is a physician and her schedule may constantly change, booking an all-in package would be best.
So, we talked to their sales representative and got his name and calling card. Maybe it was a coincidence or maybe it was the cosmic joker because we saw that his name was Arjel! (It was even read the same as my name!)
Anyway, we took this as a positive sign that we should go ahead and secure our reception venue.
We chose their Flowerhouse venue since we were just planning to invite a total of 100 guests.
Tip Time!
Make sure you have CASH (or in my case, a credit card) ready when you are going to a bridal fair. You might just find the perfect supplier(s) for your needs. In order to secure your desired wedding date and to block them off from booking other couples, go ahead and decide with your partner.

Be careful, though, because acting on IMPULSE may have you booking more than what you need and more than your budget might permit!
For flexibility, we chose to temporarily book the "venue only" option and told them that we'll update them if we are proceeding with the all-in package.
Why? Because I have attended a wedding before and I really liked the salmon dish that was served by their caterer, K by Cunanan.
They were also in the bridal fair so we visited their booth to ask about their availability. Unfortunately, they were already booked for our wedding date and they choose to only book one wedding/event per day. (So, if you want to book them make sure you do it at least a year in advance!)
It's okay! We now decided to go with the all-in package of HillCreek Gardens which consists of the following:
Reception Venue
Floral Arrangements for the Church & Reception
Catering & Cake (with an option to add Cocktails)
Lights and Sounds
One Complimentary Bridal Suite
One Complimentary Groom Suite (this was a bridal fair exclusive promo)
Free use of Bridal Car (Mini Cooper!)
Venue Platform with Elegant Background
Plated Service up to 20 Guests
Managed buffet arrangement
These inclusions really took a lot of work out of our plates! I can assure you that this kind of service can make it easier for you to plan your wedding.
Our Wedding Theme and Motif
We wanted it to be simple yet elegant so we chose to have an all white wedding (with green and gold accents).
Some of the guests were concerned that Maj might not stand out if everyone would be wearing white. We saw the wedding photos of Maxene Magalona and Robbie Gar and we decided that we can pull it off.
For the ladies: White Gown or White Long Dress
For the gents: White Long Sleeves and Khaki Pants
Check out part of our wedding FAQs that we published on our Facebook Event: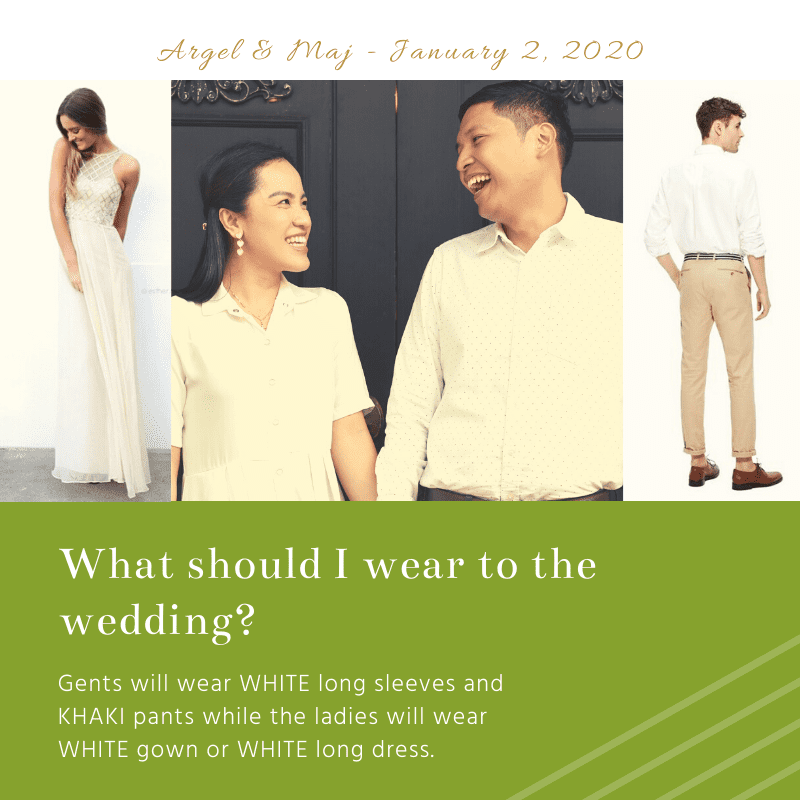 Everyone knows that us, guys, have it easy when it comes to deciding what to wear. I took inspiration from the all white, beach-themed wedding.
I was trying to look for a khaki or brown or off-white suit and pants combinations to still look good with the all-white theme.
When I saw a pair of linen pants and linen suit, I knew that it was the perfect attire for me. I had no intention yet to look or even buy what I'll wear but since the opportunity presented itself, I immediately took action and bought it.
Yup, I didn't have a tailor-made 2-piece suit. I bought it ready to wear and I just had it altered for the length of both the pants and the sleeves. 
Do you want to know how much it cost me? Leave your details below so I can email our wedding expenses tracker to you.
Tip Time!
Pinterest really helped us to look for design inspiration not just for what to wear for our wedding but also inspiration on how the other details of our wedding (like the flower bouquet, the church aisle, the reception tables etc.) would look like.
I wasn't planning to buy new shoes because I already have brown shoes that would go well with my linen suit and pants.
The force was strong, however, when I came across the Star Wars collaboration with the local brand World Balance!
I love Star Wars, and during our pre-nuptial pictorial session, we incorporated my fandom of Star Wars and her fandom of Harry Potter as the concept of the pre-nup and our save-the-date.
Check out my kicks:
And that's about it for part 2!
I will update you when part three is out.
Leave some comments below if you have questions 🙂
The following two tabs change content below.

When he is not busy watching "The Office", lounging at the beach, or playing 1st person shooting games, Argel consistently invests in the stock market, both local and global. He loves learning through books, training, seminars, and workshops. He also helps Pinoys create, manage, grow, and protect their wealth as a globally-certified Professional Financial Advisor. Get in touch with him by sending an email to contact[at]argeltiburcio.com

Latest posts by Argel Tiburcio (see all)