Ready to tie the knot with the love of your life?
If you've been through the ups and downs of being in your relationship and you feel (and you know) that you're ready to level up your commitment and settle down with your partner, then the next step is to get married!
I will be taking you through what I've personally experienced, from the proposal up to the post-nuptial.
While reading through this post and you think of a person who would benefit from this post, please send them to my website or send the link to this post to them, okay?
Let's go!
The Proposal and the Wedding Planning
Years ago, I remember having lunch with my former boss, Willy.
Right after our Financial Planning meeting, we got to talk about life and relationships.
One of the questions I asked was, "How did you know that she (his wife) was the one?"
He simply replied, "You'll just know."
And that's exactly what happened when I got to know more about my ex-girlfriend, Maj (she's now my wife!)
I just knew that she was the one that I wanted to spend my whole life with. (Awwwwww!)
I planned to propose to her on her birthday, which was on September, so a few months ahead I started researching around for the perfect engagement ring for her.
Here's a tip for guys who want the best bang for their buck: Customize your engagement ring!
This way, you can put more meaning to the ring you are about to give.
I already had an engagement ring design idea (Thanks to Pinterest!)
Next is to decide what kind of stone you want to highlight on the ring.
I wanted to use her birthstone, Sapphire, as the highlight of the ring because it signifies that she was born for me (Cheesy? For me, it's better to tell a story around the ring rather than just putting the biggest, flashiest stone.)
One problem, however, is the color. Sapphire is blue. Her favorite color is pink.
Good thing there is Pink Sapphire!
I still wanted to put diamonds in it so I opted to put smaller ones so the highlight is still the pink sapphire.
Oh, and by the way, the pink sapphire was heart-shaped!
Then, I had to decide which metal to use.
She really adores rose gold that's why this was an easy decision for me.
Now I had a design, I know which stone(s) to use, and I know which metal to bring it all together, it's time to have it made!
Check out her engagement ring: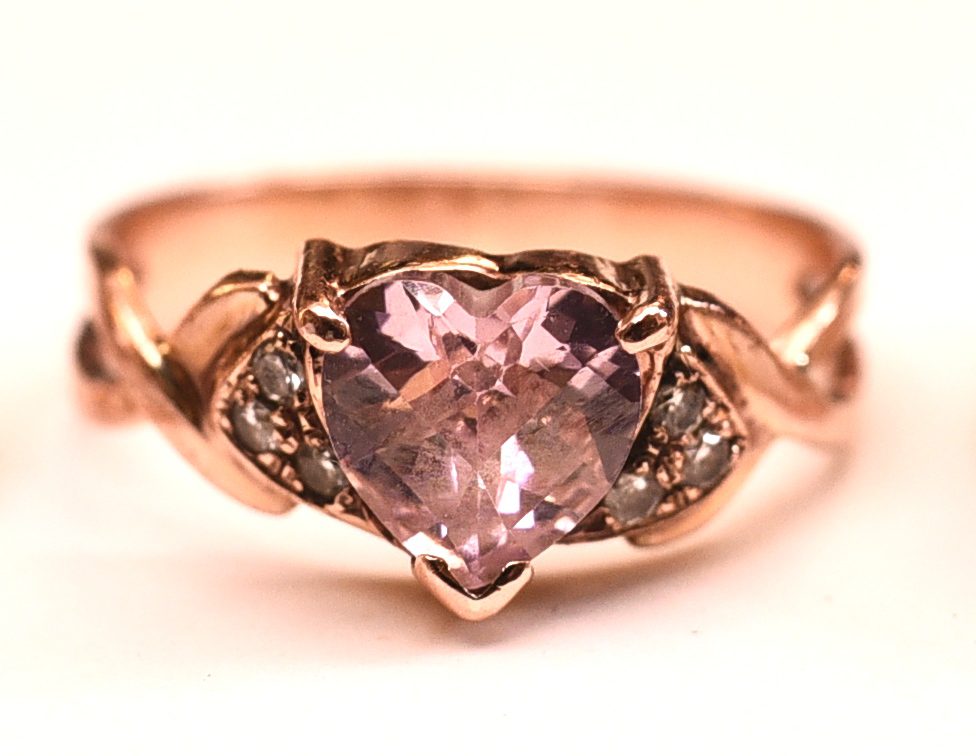 Here's a few more tips when customizing an engagement ring:
 It does not need to break the bank! Set a realistic budget.

If you think diamonds are too expensive, choose an alternative.
I heard some sort of bullshit rule saying that the ring should cost one or two months of your salary, that's just wrong. 
Be diligent enough to research for businesses that customize rings.
Remember, this is just one part of the big picture of wedding planning. There are more expenses to prepare for.
Do not buy or customize a ring that you cannot afford. Period.
Nowadays, social media has put unnecessary pressure on single men when it comes to the way they should propose to their girlfriends. I'm sure you would agree on that.
I have nothing against proposals that are too flashy, too public, or too expensive.
That's just not me.
Proposing on her birthday was perfect because we plan to go to Mass. God was the ultimate witness on my proposal!
Right after the mass, I asked her to stay and it was then that I brought out the ring, asked the question, and thank God she said "Yes!"
Perfect! I also had a nice dinner planned after the Mass to jointly celebrate her birthday and our engagement.
Some more tips before proposing:
Again, it shouldn't be expensive!
Tell her parents that you intend to propose and ask her to marry you. (I told her parents AFTER I proposed, whoops!)
Make it meaningful rather than flashy. It doesn't have to be documented on social media!
Have backup proposal plans.
Just do it!
Now that I've proposed, it's time to set the wedding planning with full speed ahead.
Bulk of this post (and another post) will fall under this section. Let's go!
I cannot stress this enough.
The very first thing to do as a soon-to-be-married couple is to set a realistic BUDGET for your wedding.
All of the details of your wedding plan will revolve around this amount.
The church, your suppliers, the target number of guests, everything!
In my case, I already knew I wanted to get married so I started my wedding fund as early as possible.
Even though I was single at that time, I am clear that I will get married in the future and I wanted to have the confidence to ask my future partner to marry me.
It made perfect sense to start a fund for that purpose.
If you are reading this, it means you have plans to get married. Start saving and investing for it TODAY. (Good for you if you've already started!)
Choose a relatively conservative financial vehicle for your fund. You can open a time deposit account, a conservative Mutual Fund, treasury bonds, or depending on how skilled you are and how you tolerate risk, you can also put the fund in stocks.
I chose to put it in a crowdfunding endeavor called FarmOn. My funds were locked in for around 6 to 8 months at a time, which worked for me. Plus, it also gave very decent returns.
Just make sure that whatever savings or investment vehicle you choose, your fund should be easily withdrawable. Especially when the time comes that you're ready to book for your wedding suppliers.
Cool? Now let's get on with the very first booking that we made which set our wedding planning in motion!
Just a little side note:
It's just like preparing for the inevitable. We will all leave this Earth, so why not get life insurance? It's betting on something that will happen with 100% certainty. I can help you design the perfect insurance plan for you and your budget! Contact me today by sending an email to contact@argeltiburcio.com
We are both Catholic so it's easy to agree that we will be having a church wedding.
After the countless weddings that I have attended, there was one church that caught my heart.
It has a great view, a cool breeze, and an intimately romantic vibe.
Check out this pic from our big day: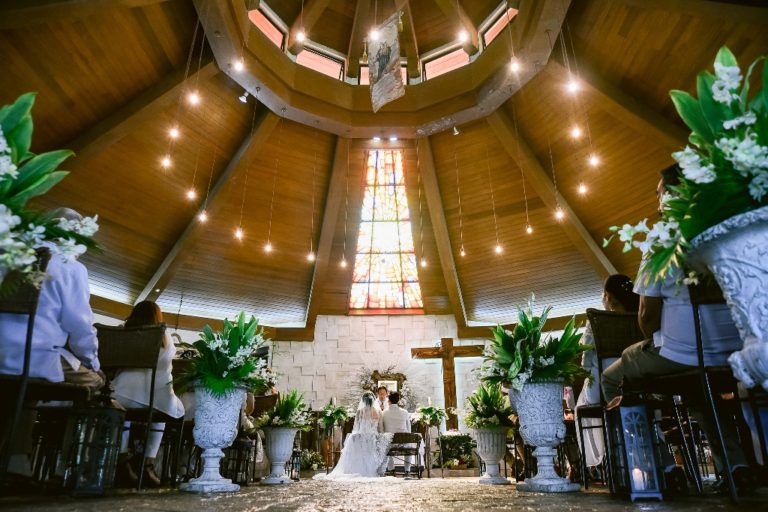 Have you been to Chapel on the Hill?
Agreeing on the church is one thing, choosing a wedding date and time is another.
We chose January 2, one two twenty, as our date.
It was the first working day of the year plus it was an out of town location. Considering our budget, we somehow knew that not a lot of guests can commit to attend our wedding. (Haha!)
So, if you already have a wedding date and time in mind, book your preferred church ASAP!
The process was simple. I called them up and asked for the availability of the church. The ideal time slot of 2PM was not available but we didn't mind booking the available 11AM slot.
I asked for their bank account so I can transfer the reservation fee immediately plus I gave them all the required information (basic details of the persons getting married) that they initially required.
And then, voila, our preferred church was booked and reserved! Wuhoo!
Booking the Reception Venue
I'm glad you made it this far! It shows how committed you are in planning for your big day.
Let's continue with the details of the reception venue on my next blog post!
The following two tabs change content below.

When he is not busy watching "The Office", lounging at the beach, or playing 1st person shooting games, Argel consistently invests in the stock market, both local and global. He loves learning through books, training, seminars, and workshops. He also helps Pinoys create, manage, grow, and protect their wealth as a globally-certified Professional Financial Advisor. Get in touch with him by sending an email to contact[at]argeltiburcio.com

Latest posts by Argel Tiburcio (see all)