Southern Hospitality
After weeks of preparation, me and my co-speakers for the JFINEX SLSU event entitled "Unfold Your Financial Intelligence Quotient (Navigating Mindset towards Financial Freedom)" are ready to head for Lucban, Quezon the night before the event date.
Dj Dimaliuat offered to drive us there aboard his awesome Toyota 86 sports car. Two movies and around three hours later, we safely arrived at our destination.
Waiting for us were the awesome students who are part of the very hospitable welcoming committee. I felt like a legit VIP with the way they treated us!
They took care of our hotel booking at the SLSU hotel (which was conveniently located right beside the school) so we could have a good night's sleep before the seminar. We were greeted with so much excitement and also some food for dinner! Haha!
After they made sure that everything in our room was okay and taken care of, we requested to have a look at the SLSU Gymnasium after dinner.
This was one of the largest audiences that I have spoken to so far. If I'm not mistaken, there were 866 confirmed guests for that awesome event! I really wanted to see what the gymnasium looks like with that capacity of people so I could visualize how I could pan the crowd.
Here's what it looks like: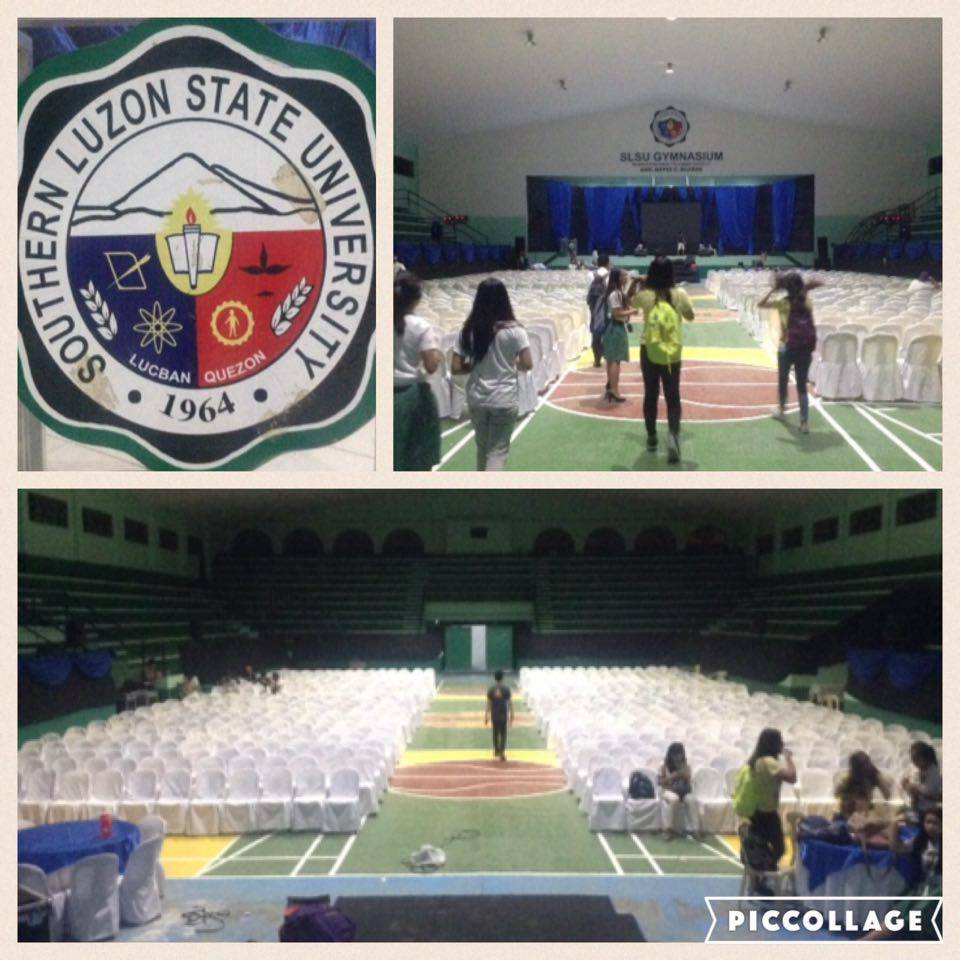 Aside from the white chairs for the seminar's participants, the bleachers at the side will be used by the 4th-year Financial Management students. These 4th-year students are the ones responsible for this major event! (Congrats to you guys!)
What I didn't expect was that they rented out a huge LED display! Super cool! Being financial planners, we already thought about the cost of renting out that piece of equipment plus the lights and the sound, haha :p
The feeling was unreal as I tried walking on stage and imagining the empty seats filled with students hungry for learning.
After the quick ocular at the venue, we bid the industrious students good night, went up to our room, and relaxed at the comfy accommodations.
The Big Day
I was so excited for breakfast! I knew they'll be serving us the local specialty: Lucban Longganisa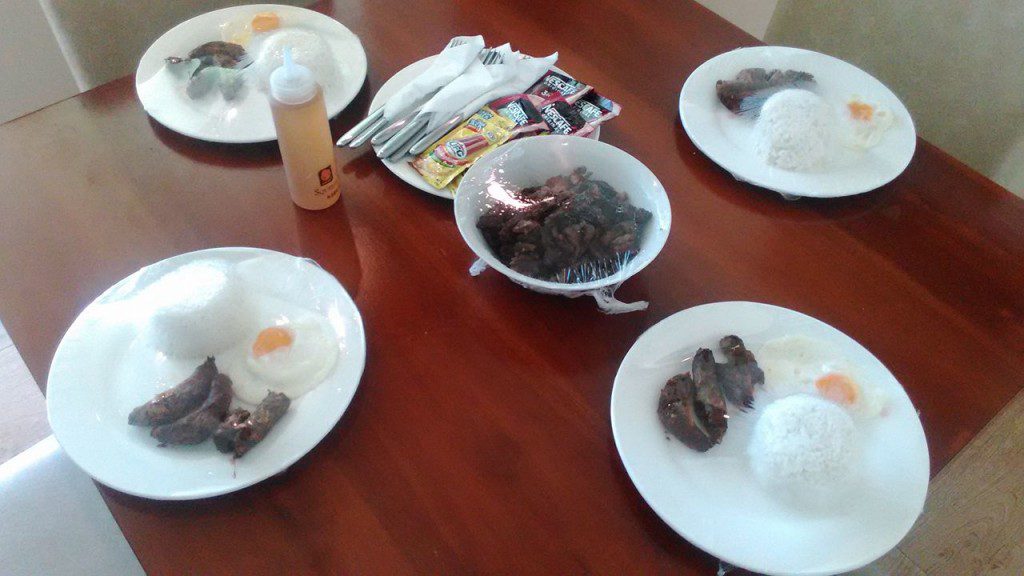 Again, the awesome students made sure that all is well with our breakfast. (Plus, they also made sure we didn't go too early to the venue because they're preparing a very kind welcoming gesture for us)
When all were ready, they walked with us to the venue where the awesome ushers and usherettes were waiting to welcome us with a flower necklace and flourishing smiles.
As we approach our designated seats, they showered us with a round of applause. At this point, I felt loved and I felt the warmth of the amazing audience.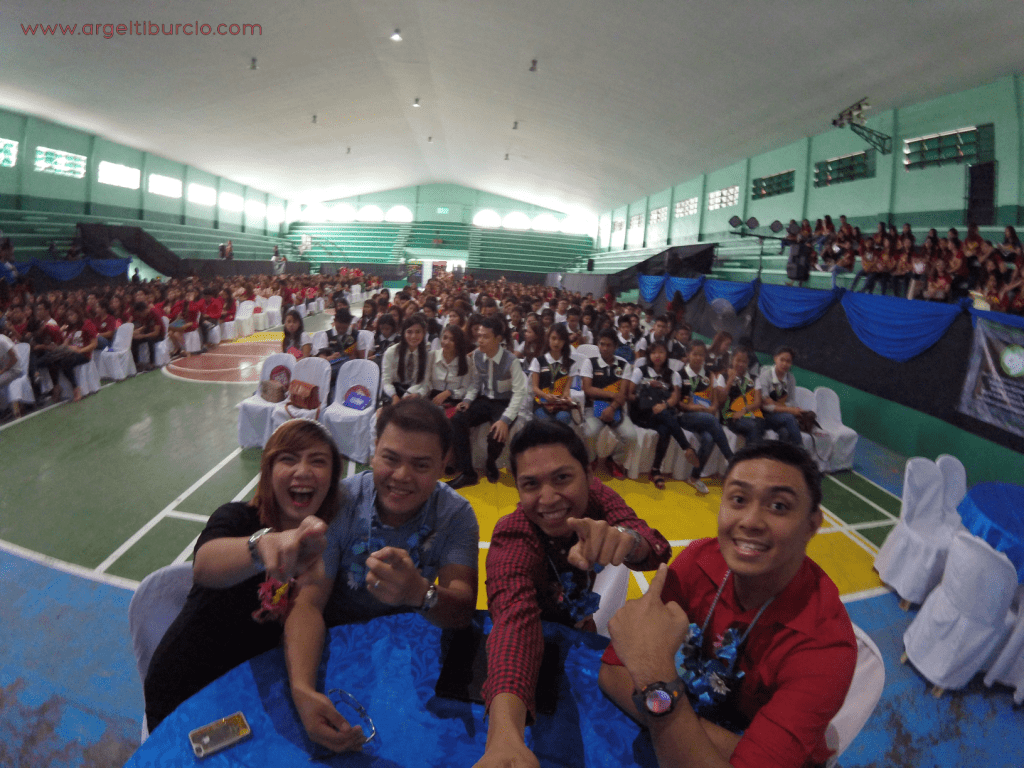 Our Talks for the Day
What it Really Means to be Financially Free by Othelo Pablo
Investment Guide for Yummies by Argel Tiburcio (Get your copy of the slides here)
Finding Our Role in the World of Finance by Christine Dimaliuat
Living Your Dream Life by Dj Dimaliuat
To be honest, I really felt nervous as I went up the stage to give my talk. It was my first time being one of the speakers for an event that big and that awesome!
This talk was really one for the books!
As I talked about the Investment Guide for Yummies, I was very happy to experience how responsive and participating the students were. I asked them questions and they answered, I let them speak to their seatmates and they did!
After our talks, another unforgettable experience happened…
Seemingly endless pictures, selfies, and groufies with the students! That was my first-hand experience of feeling like a celebrity hahaha! My face got tired of smiling and posing for different cameras.
Nevertheless, I was very happy to pose for these students who were so eager to grow themselves so they could grow their Financial IQ. I hope they take the knowledge and put it into action.
Before returning to Manila, the VIP treatment continued as we ate with the students and their lovely adviser at the local restaurant to eat Pansit Lucban, Lucban longganisa (Again, wuhoo!) and Chami. We also made sure to take home and buy more Lucban longganisa :p
I can do this every day
With the level of hospitality and warmth of the students, the eagerness to learn from the audience, the awesome feeling of contributing to the growth of other people, and, of course, talking about what I love to talk about, I feel that I can do this kind of talk every day!

Special thanks to Christine Dimaliuat who chose me to become part of this very special and memorable learning event. I am very grateful to have experienced something like this!
Please share with those who attended this event!
To our success in all areas of life,
Argel Tiburcio, CIS
I'm on Facebook: http://fb.com/ArgelTiburcioPFA
The following two tabs change content below.

When he is not busy watching "The Office", lounging at the beach, or playing 1st person shooting games, Argel consistently invests in the stock market, both local and global. He loves learning through books, training, seminars, and workshops. He also helps Pinoys create, manage, grow, and protect their wealth as a globally-certified Professional Financial Advisor. Get in touch with him by sending an email to contact[at]argeltiburcio.com

Latest posts by Argel Tiburcio (see all)