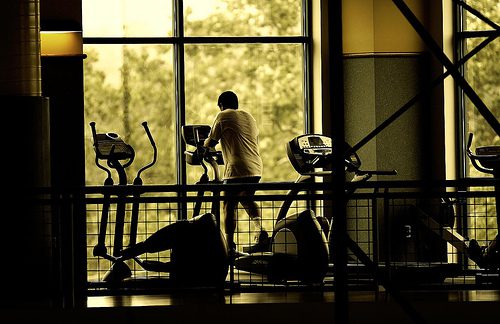 http://www.flickr.com/photos/33685308@N00/181196330
For those of you who have day jobs, it may be hard to fit in an ideal schedule for personal fitness.
I know that most of you would not agree.
A lot of people nowadays go to the gym, jog at the oval, train for boxing lessons and some even have their own gym at their homes.
But me, I have my own personal fitness trainer!
Thanks to my Nintendo DS (haha!)
This nifty handheld gaming device is not only for, well, games but also for your personal fitness!
I have a game titled "Personal Trainer DS".
The game let's you track your current weight, your calories burned and also the calories you took.
It also has a lot of training programs.
Personal fitness training for your back, your abdomen and also for your overall fitness.
The game demonstrates how to do a certain exercise or training clearly and effectively.
How?
By having a computer generated model that illustrates how the exercise should be properly done and also to prevent yourself getting injured.
You can play the demo over and over again and even switch the camera angle!
A training scheduler is also available so that you get reminded if you skipped a training session.
I highly recommend this personal fitness trainer to those who have a Nintendo DS and are conscious about their health.
Let me know if you also have this game by putting your replies on the comment box below.
The following two tabs change content below.

When he is not busy watching "The Office", lounging at the beach, or playing 1st person shooting games, Argel consistently invests in the stock market, both local and global. He loves learning through books, training, seminars, and workshops. He also helps Pinoys create, manage, grow, and protect their wealth as a globally-certified Professional Financial Advisor. Get in touch with him by sending an email to contact[at]argeltiburcio.com

Latest posts by Argel Tiburcio (see all)