Are you a COLFinancial Account Holder?
Then, you might be at risk!
COLFinancial.com, the Philippines' No.1 Online Stockbroker, created an infographic warning their account holders about Phishing.
What is phishing?
According to Wikipedia:
Phishing is the attempt to acquire sensitive information such as usernames, passwords, and credit card details (and sometimes, indirectly, money) by masquerading as a trustworthy entity in an electronic communication. Communications purporting to be from popular social web sites, auction sites, banks, online payment processors or IT administrators are commonly used to lure unsuspecting public.
Yikes!
Imagine someone getting access to your online stockbroker account and manipulating your stock investments!
How do you protect yourself from Phishing?
Here are a few resources that you can read so that you can remain vigilant and secure from phishing attacks:
8 Ways to Avoid Phishing Scams
How to Protect Yourself from Phishing Scams
How to Protect Against Phishing
And also if you are a visual person, you can refer to this infographic from COLFinancial below: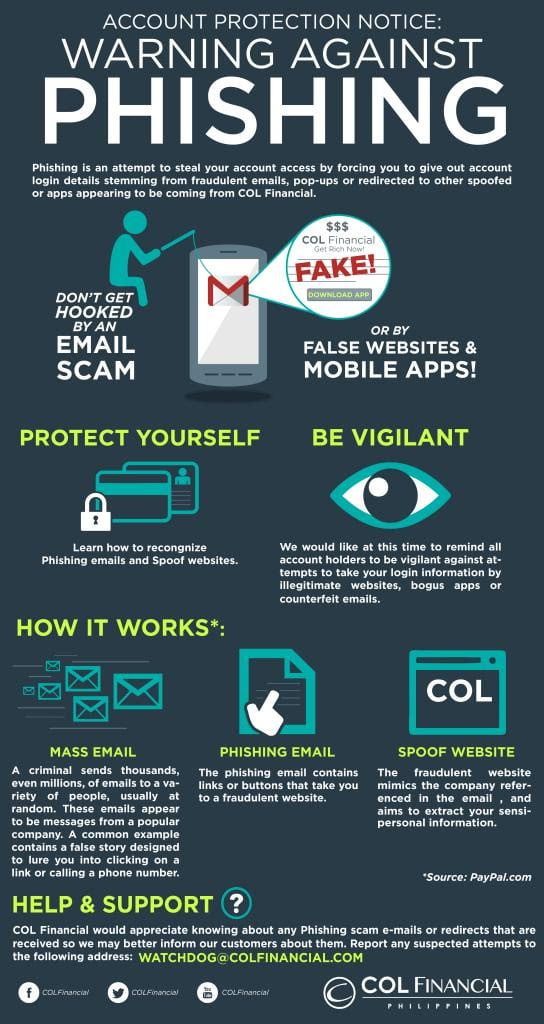 Remember: If you see any fraudulent emails or websites, kindly email your findings to watchdog@colfinancial.com
Do you know a friend or office mate who has an account with COLFinancial? Then please share this article:
To our success in all areas of life,

Argel Tiburcio
Author | Adviser | Advocate
www.ArgelTiburcio.com
The following two tabs change content below.

When he is not busy watching "The Office", lounging at the beach, or playing 1st person shooting games, Argel consistently invests in the stock market, both local and global. He loves learning through books, training, seminars, and workshops. He also helps Pinoys create, manage, grow, and protect their wealth as a globally-certified Professional Financial Advisor. Get in touch with him by sending an email to contact[at]argeltiburcio.com

Latest posts by Argel Tiburcio (see all)