The First of April
I didn't really plan on doing an April Fools' Day prank.
Yes, I didn't!
However, as I was traveling to the office early in the morning, half-awake and browsing through my Facebook timeline, I happened to stumble upon my prank post last 2015.
It had around 130+ likes and 20+ comments. So, I took it as a personal challenge to do a better prank post in terms of likes and comments this 2016.
Which brings me to Lesson#1:
Try to become better than your old self.
As a sub-lesson, I always want to try and avoid comparing myself with other people.
But, I'm telling you it's hard. Especially in today's Social Media scene, I know you know what I mean.
Sometimes, I can't help but compare myself with my friends' achievements, travels, possessions and social life. I hear myself asking "Why can't I be like them?" or "Why can't I have those too?"
Are you sometimes like that too?
Not to sound preachy, but what I want you to realize is this: "Everything that happens is ALWAYS for the best."
I've proved Steve Jobs time and again when he said that we can only connect the dots looking backward.
Still, it's a challenging conscious decision to choose NOT to compare me with others.
Going back to the story, I was thinking of a not-so-obvious post because everyone on Facebook was getting into relationships or being engaged that day.
So, I thought of this: Scholarship Granted (Australia)
I posted it as a Life Event on Facebook and I was standing by to see if anyone will fall for the prank.
The Snowball Effect
Shortly after the post and as I was inching through Metro Manila traffic, I was surprised by the amount of my Facebook friends that were responding to my post with their likes and comments!
I decided to play along and  act as if it was true.
And that gives us Lesson#2:
If you COMMIT to doing something, do your best and see it through.
As long as it's not illegal, immoral nor life-threatening, do it until you see the finish line.
Again, I'm not perfect, there are still times that I do things half-heartedly or do things that are "just okay."
However, I cling to this quote by T Harv Eker that says "How you do something is how you do everything."
This guides me to do my best in whatever I do. As in, WHATEVER. Even the smallest and simplest tasks for the day.
Even in a prank post haha! 
I got a bit scared because, in less than an hour, there were already a hundred or so likes and a bunch of "Congratulations!" comments.
Some of my ever-supportive friends even messaged me privately to express their joy and well wishes. (Awwwww… you guys…)
But I had to break the news to them. I replied with my polite "Thank you! :)" and then revealed that it was just an April Fools' prank.
Which (yet again!) leads to Lesson#3:
Act in spite of FEAR.
I feared that people might no longer trust me after revealing that it was a prank but I still pushed through with it.
As long as I was honest that I had no ill intentions and it just was the perfect day to do pranks, I know my friends would  understand and gladly play along with it.
Which is exactly what happened. The fear I felt was just IMAGINARY. (Friends, you still trust me, right? Haha!)
Let's bring this lesson to our life.
I guarantee you that there will be times that FEAR will be so real and you'll get tempted to just turn around and walk away.
I've learned that the fear or the obstacles that are blocking us from getting what we want in life are there for a reason.
It separates those who are just trying and those who are committed to doing whatever it takes.
So, act in spite of fear because you are enough!
The result
After a full day of exposing and playing along with the prank, it ended up like this: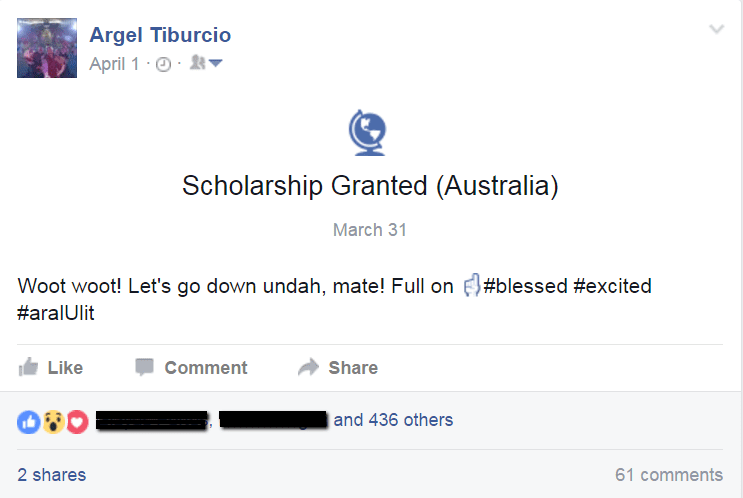 Haha! Awesome, right?
Here's another lesson I realized, Lesson#4:
After doing your best, do not get attached to the result.
Whether or not I have surpassed my likes and comments from 2015, I would still be happy because I know I tried and I did my best.
Why?
Because I do not control if my friends will like or comment.
What I can control is my own effort and attitude about whatever I do.
If I don't get my goal, I can always try again. I can assess what went well and what I can do better. I can also ask for feedback from others.
All is the same in a seemingly simple Facebook prank and with our goals and dreams.
Remember these awesome lessons and apply it in our lives:
Try to become better than your old self.
If you COMMIT to doing something, do your best and see it through.
Act in spite of fear
After doing your best, do not get attached to the result.
Do you see any more lessons in this? Let me know by commenting below!
[wpsr_sharethis]
To our success in all areas of life,
Argel Tiburcio, CIS
I'm on Facebook: http://fb.com/ArgelTiburcio
The following two tabs change content below.

When he is not busy watching "The Office", lounging at the beach, or playing 1st person shooting games, Argel consistently invests in the stock market, both local and global. He loves learning through books, training, seminars, and workshops. He also helps Pinoys create, manage, grow, and protect their wealth as a globally-certified Professional Financial Advisor. Get in touch with him by sending an email to contact[at]argeltiburcio.com

Latest posts by Argel Tiburcio (see all)