Is there really a "Right Hire"?
Putting together a "Dream Team" of Financial Advisers is tough.
That's why I am very grateful for our Tuesday meeting with leaders from Philam Life wherein we discuss, exchange, and bring out ideas on how we can develop our very own team.
Once a month, we get to hear from awesome speakers from different industries who are very generous to share their insights about different important topics.
For this post, I would like to share my #NapkinNotes from Vida Arciaga who relayed anecdotes and experiences on how to find the "Right Hire."

With her 30 years of experience, our short time with her was not enough to pick her brains for all the knowledge about hiring and team building she has but it was enough for us to be inspired in building a great team.
In fact, we'll be having her with us for the second time and we're truly excited to receive more learning from her!
Anyway, here are my top takeaways from our first huddle with Vida Arciaga.
Clarity is Power
What kind of team do I want?
What demographic do I want to build on?
What skills or background do my team has to have?
Being clear with I want to have on my team is a very powerful tool in honing and developing my dream team!
Alignment
Are my team members aligned with my Mission and Vision for the team?
Are they aligned with their personal goals as well as their team goals?
What can I do to make sure all of us are looking towards that vision?
What is unique?
What will be our team's edge?
What makes us different?
What makes us stand out from the crowd?
What makes a team unique are the individuals in the team. I should capitalize on our uniqueness.
Build your empire
Only I can build my empire.
The mission and the vision lead to building an empire.
Everyone has the capacity to build their empire.
What are your values?
What are the core values that I would like to instill in my team?
What are the core values that I would like to instill in our clients?
What are the values that we need to imbibe in order to be aligned with our Mission and Vision?
CULTURE
Is my culture a culture of mediocrity or excellence?
Will my culture automatically prune the members who don't "fit"?
Does culture create a sense of support and healthy competition?
"Right Hire" is a myth
There is no such thing as a "Right Hire" if there will be no right structure, right support, and the right leadership.
Acquiring the right people who see the vision, uphold the mission, and embrace the core values is everything.
Apologize and Make Amends
Life is short to be holding grudges with people.
Reach out first.
Saying sorry and apologizing is not a weakness but a strength.
People are watching
Whether I like it or not, with the dominance of social media, people are always watching.
There will always be people out there who will want to watch me fail.
There are also people who will be there to defend and protect.
Be unique yet flexible
Change is constant.
Be flexible enough to adapt and, of course, grow.
I don't have a monopoly on ideas.
Share good stories
Stories sell, facts tell.
Create genuinely good stories that attract the people I want.
Stories are powerful carriers of messages.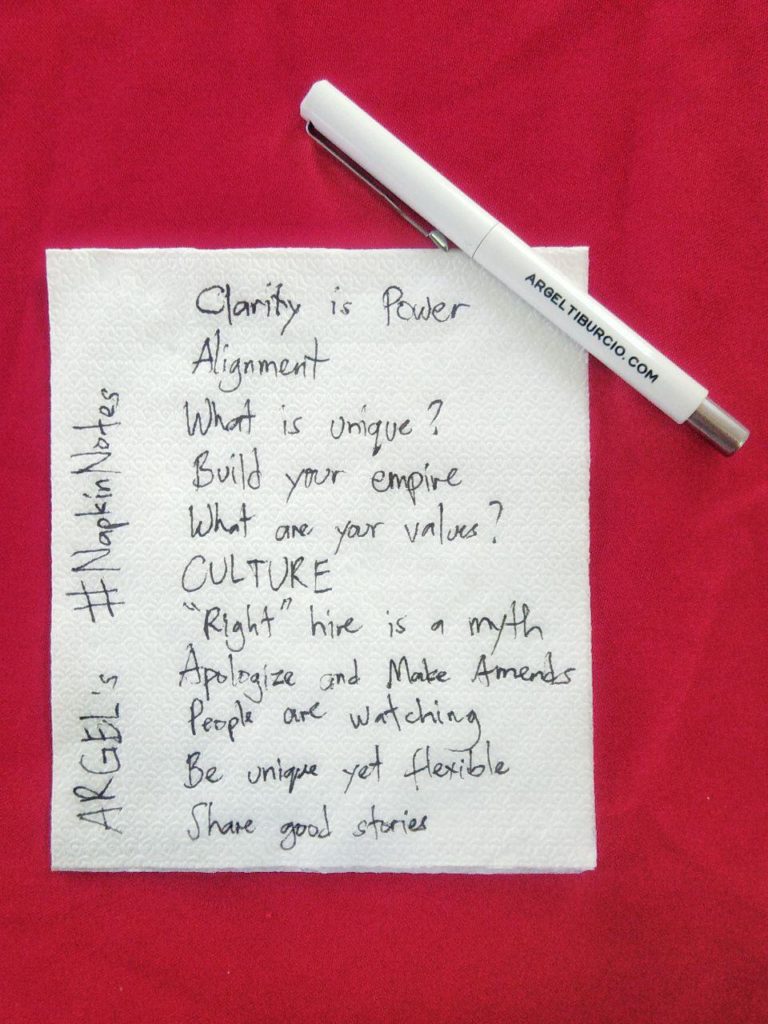 If you want to be part of my "Dream Team" of Financial Advisers, leave your details here or comment below so I can get in touch with you.
Which of these resonate with you the most? Comment below!
To our success in all areas of life,
Argel Tiburcio, CIS
I'm on Facebook: http://fb.com/ArgelTiburcio
The following two tabs change content below.

When he is not busy watching "The Office", lounging at the beach, or playing 1st person shooting games, Argel consistently invests in the stock market, both local and global. He loves learning through books, training, seminars, and workshops. He also helps Pinoys create, manage, grow, and protect their wealth as a globally-certified Professional Financial Advisor. Get in touch with him by sending an email to contact[at]argeltiburcio.com

Latest posts by Argel Tiburcio (see all)