AIA Healthy Living Index 2018 – Key Findings (Philippines included!)
AIA, the mother company of AIA Philippines, has been asking about people's health for the past seven years. 2018 results are out.
What are the prevailing health trends in the Asia-Pacific region? Check out the infographic below: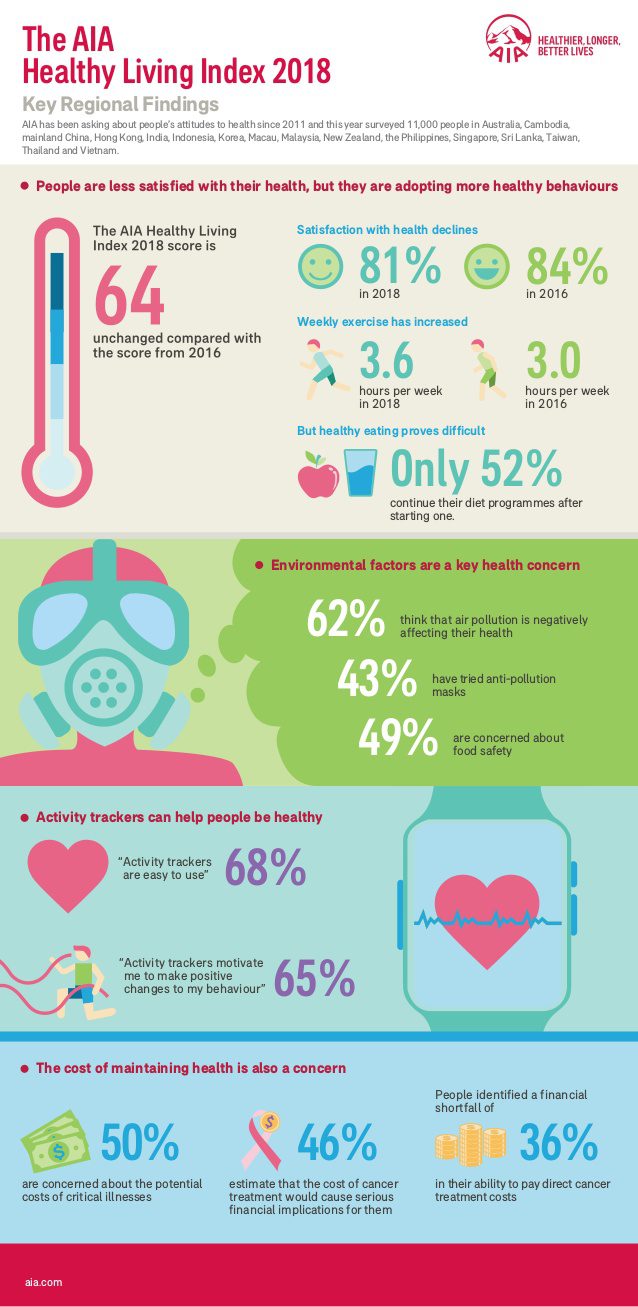 People are less satisfied with their health, but they are adopting more healthy behaviors
Based on my personal observation, the trend since around 2010 is going towards health and wellness.
Running and other fitness events are gaining more traction.
Gyms and health centers are everywhere.
Different kinds of diet programs are emerging.
It's important to note that health (and finances!) are driven by behaviors.
If we want long-term positive effects, we have to influence our behaviors.
That's why Philam Vitality is a sure hit for responsible people who want to develop positive health and fitness behaviors.
If you want to know more about this awesome program, contact me now.
Environmental factors are a key health concern
Here in the Philippines, the number of vehicles on the road is growing exponentially.
The effects are widespread especially in Metro Manila given the worsening traffic problem.
Aside from the stress that commuting and driving brings, pollution from vehicle emissions is a major concern.
Activity trackers can help people be healthy
The convenience of wearable and portable technology is slowly taking over the market.
Our smartphones can monitor the number of steps we make in a day and remind us to put more physical activity in our daily life.
Imagine how easy it is to be on track with our daily activity goals!
What's more awesome is that we can be rewarded by hitting those goals by just being part of the Philam Vitality program. Ask me how!
The cost of maintaining health is also a concern
Health Maintenance Organizations (HMOs) are good for check-ups, short confinements, and minor surgeries.
Critical illnesses like cancer, heart attack, and stroke, however, demand huge financial reserves.
If you or your family (especially breadwinners)  don't have any Income Protection for Critical Illness, it's time to explore and talk to a Financial Adviser.
Securing you and your family's future should be your top priority. Are you doing something about it?
Let me know your thoughts and concerns about the AIA Healthy Living Index on the comment field below!
To our success in all areas of life,
Argel Tiburcio, PFA
Let's connect, click: https://snapt.io/argeltiburcio
The following two tabs change content below.

When he is not busy watching "The Office", lounging at the beach, or playing 1st person shooting games, Argel consistently invests in the stock market, both local and global. He loves learning through books, training, seminars, and workshops. He also helps Pinoys create, manage, grow, and protect their wealth as a globally-certified Professional Financial Advisor. Get in touch with him by sending an email to contact[at]argeltiburcio.com

Latest posts by Argel Tiburcio (see all)